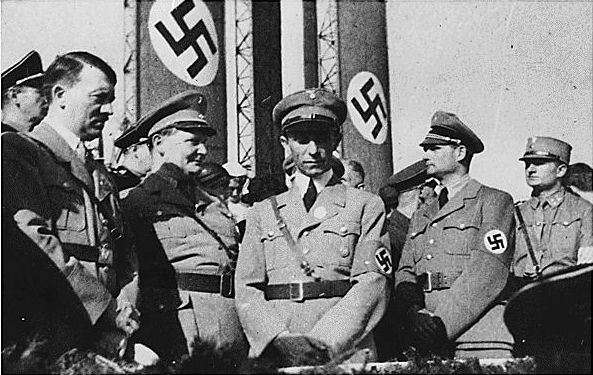 On January 30th, 1933, Franz von Papen and General von Blomberg had mollified President Hindenburg into accepting Adolf Hitler as Chancellor, with Papen as his deputy but with only two Nazi colleagues.
The Reichswehr leaders were divided among themselves, but they and Papen and his other friends of the Herrenklub believed that they would tame the Nazi leaders while cashing in on their popular support: some of them hoped soon to restore the Monarchy.
Hitler, however, intended not to be used by, but to use, them, as he used the Reichstag Fire a month later, and every other opportunity, to gain power for himself. He desired power in order to go back six hundred years, as he had said in Mein Kampf, in order to resume the German colonization of Eastern Europe.
He was concerned to prepare for such action and therefore for war. This, and to extirpate the Jews, were his chief interests. He had no sympathy for socialism except when capitalists were Jewish, although he had made deft use of popular socialist sentiment when he addressed mass audiences. After a year as Chancellor, he had made great strides towards absolute power.
He had suppressed all open criticism and all other parties and organizations but the Nazi ones; the whole machinery of the police was under his command, initially through Göring's appointment as Prussian Minister of the Interior, and then through the accumulation of police control over the other Länder in the hands of Heinrich Himmler, Reichsführer of the S.S.
There were, however, certain flaws in the situation as Hitler saw it. The trial at Leipzig of Marinus van der Lubbe and the Bulgarians for setting the Reichstag on fire had shown that the judicial system was not yet completely Nazified; Göring had roared at the court in vain, for the Bulgarians had been acquitted. Further, neither Protestant nor Catholic church was wholly submissive.
Moreover, after the absorption of bodies like the Stahlhelm, there were by now over four million Storm troopers whose leaders were clamouring for the realization of the long-heralded social revolution and the S.A. Staat. This Hitler was determined to prevent. For the Storm troopers the social revolution must include the absorption of the Reichswehr by them and the domination of the state by this permanent levée en masse.
This would involve delays and risks that Hitler on no account intended to face; he wished to enrol the expertise of the Reichswehr to remilitarize Germany and make ready for war as quickly as possible; when that was done, it would be time to end his own invisible but ultimate dependence on the Reichswehr, and to humiliate and degrade its leaders as he did in 1938.
From the post-war Wehrverbände which he controlled, Ernst Rohm had originally provided Hitler with the S.A. on whose intimidation of the public mind Hitler had based his power. Now, if Rohm had his way, he, the Chief of Staff of the S.A., would dominate the new army and, through the army, the state.
Rohm hoped to succeed Blomberg as Reichswehrminister; but Hitler feared, rightly enough, that, if Rohm's plans were realized, the S.A. would overshadow the National Socialist Party and the S.A. Chief of Staff would eclipse the Führer of the Party. Rohm did not understand how perilous it was to be someone upon whom Hitler had once depended and might depend again if he, Rohm, succeeded.
This coarse, vicious creature was less servile towards Hitler than the other Nazi bosses; indeed, he honestly tried to convert Hitler to his own view, and, failing, did not abandon his programme but openly looked for new allies.
He disliked Hitler's urge towards total tyranny, condemning for instance the destruction of the trade unions; for the same reason, he felt sympathy with Gregor Strasser – in disgrace with Hitler because he had not rejected Schleicher's advances – and kept in touch with him.
Several times Rohm entertained the Italian Ambassador that winter, and saw the French one towards the end of February: he did not hesitate to explain to François-Poncet that the S.A. constituted no infringement of the Treaty of Versailles.
During that month, however, Hitler and Blomberg could plainly be seen – although like so many other things, it was far from plain to people at the time – to have struck a bargain. On February 2nd, the Reichswehr excluded Jews as officers by the same formula as that already adopted for the Civil Service, and the swastika became part of its insignia. On February 28th came Hitler's reply.
At a meeting at the War Office, in the Bendlerstrasse in Berlin, of Reichswehr and S.A. leaders, he declared that the new people's army was to be based on the Reichswehr, which was in future to supervise all the activities of the S.A.; the Reichswehr was indeed to enjoy the monopoly of bearing arms in Germany. Blomberg and Hitler's most ardent admirer among the generals, Reichenau, may well have agreed so early as this to Hitler's succession to Hinden-burg.
There is no really authentic evidence; but after February 28th Rohm was reported by several hostile witnesses to have used words to the effect that Hitler was an ass, and that the S.A. would ignore his decision. One of the hostile witnesses was Viktor Lutze, a leader of the S.A. who hated Rohm; Hitler, however, told Lutze that things must now ripen. So late as June 5th, Hitler had a very long talk with Rohm who left him 'satisfied' – Hitler saw to this.
Hitler's evident distaste for the S.A. programme of what was called by its opponents permanent revolution encouraged some of the more scrupulous conservatives to prepare a protest against the methods of the S.A. which Hitler had all along condoned.
Hindenburg was in his eighty-seventh year by now and early in May he fell ill, leaving for Neudeck on June 4th, in the event for the last time. At any moment his death must be expected, and this would provide the occasion for a monarchist restoration; one of the Kaiser's grandsons was envisaged as future King.
Together with the monarchy, the suppression of terrorism, an independent judiciary, and certainly such freedom of opinion as had existed before 1914 might be guaranteed.
Many younger men, as well as the older generation, had condemned the liberalism of the Weimar period, but with no intention of abandoning the Rechtsstaaf, and much educated opinion on the 'National' side of things was genuinely appalled by the terrorism of the S.A. – the S.S., having until then been subsidiary to the S.A., had not attracted much attention.
Several representatives of these decently-minded conservatives – some of those who survived in 1934 were executed after the attempt on Hitler's life in July 1944 – worked in Papen's Vice-Chancellery, notably a young Protestant writer called Edgar Jung and a Catholic, Herbert von Bose. Jung certainly had brains and eloquence. He drafted a speech, which Papen then delivered before the University of Marburg on Sunday, June 17th.
The speech was interlarded with the necessary praise of Hitler; but it frankly deplored the ventillose Zustand (stifled condition) of the German press, which, it maintained, should exist to inform and criticize.
'The statesman or politician,' Papen continued, 'can reform the state but not life itself... The state can favour an interpretation of history but cannot enforce it, since history depends on accurate research which cannot be neglected... We are threatened with permanent revolution...
Hence it seems to me that the German state should soon be crowned with a head of state who is above the political battle... The dictatorship of a single party... appears to me a transitional condition only justifiable so long as the stability of the new regime requires it and until new appointments are in operation.'
Papen went on to deplore Germany's withdrawal from among the other Christian states of Europe.
'We must not lock ourselves up intellectually (geistig) within our frontiers and retire to our own ghetto... Inferior or primitive intelligence does not justify a battle against intellectualism.
And if we grumble over exaggerated National Socialists, we are thinking of those who, themselves without roots, wish to deprive scholars of world renown of the means of existence because these scholars are not party members. Let us beware of expelling the intellectuals from the nation... And let no one object that intellectuals lack vitality... To confuse vitality with brutality is to bow down to force in dangerous fashion...'
It is impossible to feel sure that Papen understood the speech that Jung had drafted for him; but he read it out. Those present could scarcely believe their ears. The first edition of the next Frankfurter Zeitung carried the text; but after that Goebbels managed to suppress it completely in Germany.
The press of the Catholic paper Germania printed off the text and distributed some copies; and the speech was spread by rumour with the help in the south of a good precis that appeared in the Neue Freie Presse of Vienna on June 19th. When, on June 24th, Papen appeared in Hamburg for a race meeting, people of all lands crowded round him and cheered Heil Marburg.
Jung and Bose must have hoped that this situation would encourage moderate opinion in the Reichswehr – still the most powerful body in Germany – to decide in favour of the restoration of a monarchy. A few resolute and ruthless men, however, were preparing a different dénouement; and the speech at Marburg and the news from Neudeck showed them that they had no more time to lose.
Their best ally at this juncture was Papen himself. Jung and Bose had induced him to deliver the speech at Marburg; but they could not persuade him to live up to it. When he went to Hitler to protest against its suppression and to resign the position of Vice-Chancellor, Hitler was able to make him change his mind. The Führer was in fact recently back from his first meeting with Mussolini at Venice on June 14th and 15th, a meeting that Papen had helped to bring about.
Hitler, who was to report to the President on his visit to Italy at Neudeck on June 21st, first suggested that Papen should come with him. In reading Papen's memoirs, one is again amazed at the way in which he allowed Hitler to throw dust in his eyes. For the Führer took care to visit Hindenburg alone, and Papen allowed himself to be kept away.
On June 21st, Hitler no doubt decided that Hindenburg was finished – he had boasted once before that, being over forty years his junior, he could afford to wait – and could be isolated from the other 'reactionaries'; from now on Papen was always told that Hindenburg was too ill to see him, though he was well enough to be made to approve whatever Hitler did.
Now, since it had been decreed by Hitler with Rohm's approval that the S.A. should be sent on a month's leave from Sunday July 1st, the last measures to organize and justify the destruction of their leaders must be taken.
It seems clear that virtually all direct evidence concerning the days leading up to June 30th was systematically destroyed; this in itself tends to throw suspicion upon those who came out on top. Otherwise there are only indications that point, however, in the same direction.
In April 1934 the chief, under Göring, of the Prussian Secret State Police or Gestapo, Diels, had been replaced by Himmler; thus the control of the latter over the whole machinery of the police was complete: his right hand was Reinhard Heydrich, the head of the S.D. (Sicherheitsdienst or Nazi Party's security service), who succeeded Göring as chief of the Gestapo in Berlin.
All reports going to Hitler and the Reichswehr were henceforth checked by Himmler and Heydrich, and all Rohm's activities were now portrayed as sinister. More surprising was the behaviour of General von Reichenau, chief of the Wehrmachtsamt and the driving force behind the Minister of War.
Why was it necessary for Reichenau to have a series of meetings with the new head of the Secret Police and at least one with Lutze? Where did the rumours come from that the S.A. were planning a putsch? Many Storm troopers may have said rash things, not least among them Ernst Rohm himself.
Yet no evidence of any serious preparations has ever been found, although it would have suited Hitler and Himmler to be able to provide some. On June 27th or 28th, Sepp Dietrich, the head of Hitler's S.S. bodyguard, asked the Reichswehr to help provide weapons for a secret and important undertaking of Hitler's, and produced at the same time a list allegedly compiled by the S.A. of persons the Storm troopers intended to shoot; at the head of this list were the names of Generals Fritsch and Beck, to whom Sepp Dietrich was reporting.
Just after this, the S.A. chief in Silesia, Heines, was able to convince the Reichswehr commander of the area, General von Kleist, that he, Heines, knew of no putsch plans whatever, but had information that the Reichswehr was planning action against the S.A. Kleist therefore flew to Berlin on June 29th to report to Fritsch and Beck, implying, when he did so, what was almost certainly true, that a third party – the S.S., in fact – was setting Reichswehr and S.A. at each other's throats. Reich-enau was called in.
Three days before he had been saying it was high time; but on June 29th he remarked that what Kleist had said was all very well, but now it was too late. That night Hitler, already en route, went into action. Characteristically, after what seemed to others like a period of uncertainty but was in reality one of gestation, he suddenly undertook the massacre of all those who seemed to him obstructive or annoying.
In order to deflect attention Hitler had paid some visits in the Rhineland on June 28th. The plan for Arbeitsbeschaffung (the Unemployment Cure) had not yet got into its stride and, when Hitler saw Krupp at Essen on that day, the latter emphasized the need for economic dictatorship in order to avoid chaos – this was no doubt welcome encouragement.
On that same evening, Hitler had in fact telephoned to Rohm; and they had agreed that a conference of S.A. leaders, to which Hitler would come, would be held at Wiessee near Munich, where Rohm had been on holiday since June 7th.
Rohm seemed pleased with this arrangement, which would concentrate his lieutenants at a fairly remote spot at Hitler's mercy. After weeks of Goebbels' railing at 'carpers and critics' and the fresh flow of rumours since Papen's speech at Marburg, and then in the last day or so about Reichswehr preparations, a few S.A. leaders organized some marching and speeches in Munich on their own, or quite probably in reply to orders faked by Heydrich.
Hitler arrived at Munich by air at about 4 am on June 30th; and, as he drove through the city, his wrath was nourished by the sight of some lingering S.A. groups in the streets, which were cited as proving the intention of a Storm Troopers' rebellion.
Cutting a couple of S.A. officers who had come to meet him, Hitler, with his habitual touch of cheap melodrama, remarked to two Reichswehr officers that this was the blackest day in his life, and that only the loyalty of their chief, General von Blomberg, sustained him in this crisis. He immediately arrested and degraded two prominent S.A. leaders, Schneid-huber and Schmid – this was at the Bavarian Ministry of the Interior.
Hitler then rapidly proceeded to Wiessee himself, where Sepp Dietrich and his men had arrived with the help of Reichswehr transport and were joined by S.S. people from the staff of the concentration camp at Dachau nearby. At about 6.45 a.m., Rohm and those with him were hauled out of their beds and consigned to the Stadelheim prison on the outskirts of Munich: here several S.A. leaders, arrested as they arrived at Munich station for the Wiessee conference, joined them.
Late in the morning, Hitler pronounced a furious speech at the Brown House against the dangerous vices of Rohm and his associates; there had never been any secret about Rohm's homosexuality, but suddenly it had become a crime. There were those who, in the next few weeks, reflected that, in the triumphant S.S., homosexuals were by no means unknown. After his diatribe, Hitler flew to Berlin.
Here at 10 am Goebbels is known to have given the 'signal' to Göring to go ahead. A hollow reconciliation between Goebbels and Papen had been staged for the benefit of foreign journalists on June 21st; but, on June 26th, Edgar Jung, as they were shortly to discover, had been arrested by the Secret State Police.
On the morning of June 30th, Papen was forbidden to leave his house, while his office was raided. There Bose and three others on his staff were arrested; and Bose and Jung were shot the same day. Among other murders in Berlin were those of Gregor Strasser, of Klausener, a leading figure of Catholic Action and a high official in the Ministry of Transport, who was killed in his office, and of General Kurt von Bredow, a friend of Schleicher's.
On several days in the preceding fortnight, as a witness afterwards recounted, an open reddish-brown car had driven six men, probably aged between twenty-five and thirty, to the Pension Lippmann, a house close to that of Schleicher in Neubabelsberg, near Potsdam.
At just about 12.30 p.m. on June 30th, the car arrived again; and two of its occupants – they have never been identified – pushed their way past the cook, who unwillingly opened the door, into the room where Schleicher was sitting in an arm-chair, reading: they shot him dead. His wife had been sitting by the wireless in an adjoining room, but evidently tried to reach him, and was shot down too. The reddish-brown car drove away quickly.
The Schleichers' housemaid, Ottilie, must then have rung up some cousins of his in Potsdam, who sent for the police. Frau von Schleicher was still alive when the police arrived, and was taken to hospital, where she died. A legal official, Dr. Grützner, arrived by 1.50 p.m. and examined some witnesses, including the Schleichers' cook. Indiscreetly, Grützner telephoned to a superior at about 3 p.m. that General von Schleicher had been murdered for political reasons.
After this, Himmler blocked any further legal steps, complaining to Hitler that a lawyer had again interfered with the S.S. At 11.30 that night, a menacing Gestapo party headed by Freissler and Dohnanyi visited Grützner and swore him to secrecy.
Six of the S.A. leaders in the Stadelheim prison were shot there on the evening of June 30th. A number of other people were murdered in Munich on that and the following day, mostly by a group of members of the Austrian Legion, led by a man of the Sicherheitsdienst (Security Service); they seem to have had precise instructions from the Gestapo in Berlin, that is to say from Heydrich.
Some of the victims were shot at Dachau, or on the way there; and some, for no obvious reason, were taken to Berlin and shot at the Cadet school in the suburb of Lichterfelde, where Göring's executioners were at work.
Gustav von Kahr, who in Hitler's view had betrayed him in November 1923, heard on the wireless of the shooting of the first six S.A. leaders and expressed satisfaction, as many did, that order was being restored. Almost immediately he was himself arrested and taken to Dachau where two notorious S.S. men reproached him with his 'treachery' of eleven years earlier and murdered him.
It was not until 6 p.m. on Sunday, July 1st, that Rohm, having refused to shoot himself, had the distinction of being shot in his cell by two of the chieftains of Dachau, Lippert and Eicke, Eicke remarking 'Prominente, die ihren Hals riskieren, müssen durch Prominente exekutiert werden' (Eminent chaps who risk their necks have to be executed by eminent chaps).
After some murders in Silesia, which had not been authorized by Hitler, the Führer declared the operation ended early on Monday, July 2nd, 1934. It has now been possible to track down the names of eighty-three people murdered during that weekend, a number curiously close to the seventy-four victims admitted by Hitler before the Reichstag on July 13th.
At the time, those who were not dazed noted with interest that Goebbels was still alive; he had, after all, been one of the loudest decriers of the Reichs-wehr reactionaries. Looking back, it is fairly easy to see that Goebbels had not been in danger. He had climbed to power over Gregor Strasser's back and was on bad terms with Rohm.
Further he had made himself indispensable to Hitler and, while not without spirit, was ready for every flattery of the Führer. Perhaps, too, he better than anyone understood the concentration of power that was taking place, and was glad to be identified with it.
On Tuesday, July 3rd, the North German edition of the Völkischer Beobachter published a statement, drawn up by Reichenau, according to which Rohm and Schleicher had conspired together and with a foreign state, and Schleicher had been killed because he had resisted arrest.
Of course, Hitler's undying hatred was directed against Schleicher, who had conceived the idea of cooperation between Reichswehr, trade unions and moderate Nazis led by Gregor Strasser, an idea that he, Schleicher, was incapable of carrying out. Since Hitler had succeeded him as Chancellor, Schleicher had been highly indiscreet, while his reputation for intrigue had, in any case, encouraged the Gestapo to keep an eye upon him.
But they had no evidence of any cooperation between Schleicher and Rohm; indeed, they were probably aware that Rohm condemned Schleicher's 'reactionary' activities. Although both men had seen the French Ambassador, there was nothing about their meetings with him that in any way qualified for the word 'conspiracy.' As for the murder of Schleicher, we have seen that it was deliberate.
Thus, by drafting the announcement in the Völkischer Beobachter, Reichenau had made himself and the Reichswehr responsible, not only for providing arms, barracks and transport as they had, for the murderers of June 30th, but also for faking the justification for their crimes. Reichenau had thought it worth while to do all this in order to have a military monopoly for the Reichswehr, as Hitler had undertaken on February 28th.
On that same Tuesday, July 3rd, some two hundred men who had carried out the murders were summoned to Himmler's presence in Berlin, thanked for their services, presented with daggers engraved with Himmler's name and sworn to secrecy (under penalty of death) even among themselves; those belonging to the S.D. were promoted. Himmler had every reason to celebrate the occasion.
'The Night of the Long Knives' had completed S. S. control of all police organs in Germany; the rivalry of the S.A. had been eliminated; for Lutze, who nominally succeeded Rohm, was ready to take a back seat and obey Himmler. The S.S. now established their own state within the state. Further, in spite of his promise to the Reichswehr, Hitler permitted the formation of a S.S. armed division obedient to Himmler, not to Blomberg: this was the beginning of the Waffen S. S.
Most significant of all, perhaps, was the decree published on this same day by Hitler and his Ministers, according to which 'the measures taken to suppress treasonable and seditious acts on June 30th and July 1st and 2nd, 1934, have become law for the defence of the State in an emergency.'
Hitherto, the Nazi attitude towards S.A. crimes had been to deny them, claiming that they had been invented by malicious Jews or foreigners. Now every crime that Hitler and his fellows chose to commit could be made ipso facto legal; and it became clear why Hitler had preferred to run no risks with inadequate evidence in an old-fashioned trial, when he could eliminate his enemies and the legal system at one and the same time.
On July 12th, 1934, Göring, accompanied by the chiefs of the S.S., received the legal officers of the German state and announced to them that the law was no longer to be something unchangeable; for thenceforward the law was nothing but the will of the Fuhrer. Finally, in his report on the affair to the Reichstag on July 13th, Hitler cried out that, when three traitors meet with a foreign statesman in Germany, 'I have them shot' – already the myth about Schleicher resisting arrest had ceased to count.
All the evidence suggests that the responsibility was Hitler's personally, although Himmler and Göring were his willing tools. Seldom in history can any man have struck so ruthlessly in all directions at the same time. The whole performance had a certain evil brilliance, when one considers that it was based on the presumption that he could dazzle the Reichswehr into condoning, instead of crushing, him. For it is clear that, had he encountered serious opposition, the forces he mobilized would have been inadequate.
When Hinden-burg died on August 2nd, the Fuhrer automatically became President of the Reich, as well as its Chancellor, and each member of the Reichswehr took that fateful personal oath to him. In addition to the murder of two generals, hitherto unthinkable in Germany, Hitler had already broken his word to the Army over their military monopoly.
The Storm troopers were the tools he had needed in order to edge himself into power. In 1934 he used the destruction of their power to fool and to harness the Reichswehr, while at the same time the S.S. took over all political control, providing the machinery of Hitler's total tyranny.
- See more at: http://www.historytoday.com/